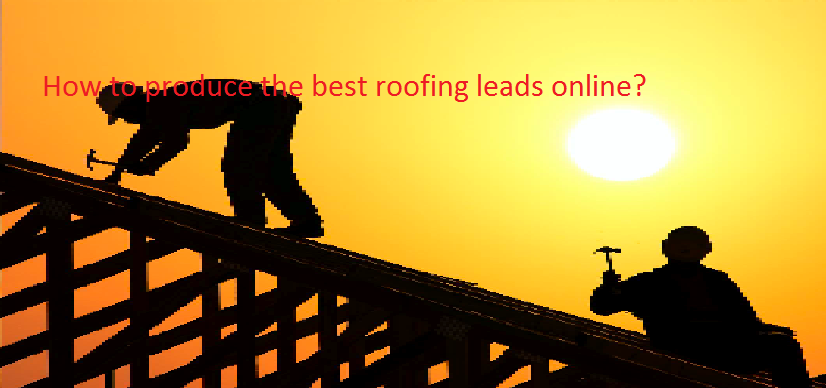 Top Reasons Why Roofing Contractors Fail to produce Leads with Internet Advertisement
Why do most roofing contractors attempt with online marketing & lead generation for their business?
They are all battling with each other rather than telling the market who is really boss.
Let me explain.
When looking at the idea of generating roofing leads online and roofing marketing, most companies are searching for paid lead services such as:
homeadvisor

ads on yellowpages

ads on yelp

Google Adwords

thumbtack
This isn't completely bad though, some companies are actually doing very well when using these specific services (depending on the niche and city). But, depending on the types of jobs you want…
These services can really break the bank, and they aren't always 100% consistent.
One issue is that you are always going head on for every lead with your competition.
Competition almost always leads to less business someway or another for a business. Competition only really helps out the customer, which is really important to know.
Let's break down some of the issues with these pay per lead services:
Driving the price down: For example, Homeadvisor will share a lead with all of your local roofing contractors that are signed up with Homeadvisor. The only way to get it is too beat out your competition, which is just another unnecessary step. It's time consuming and can really affect companies. Companies don't want to share individual leads with 14 other roofing contractors.
 Having to work around price shoppers & tire kickers: Potential customers that spend time looking on Homeadvisor, thumbtack, or yellow pages are the ones that tend to be price shopping. They don't always look for the best quality, rather the best price. Home owners that want the top quality companies may never even see you, because they just search for the top companies in Google.
Majority of the market using Google: The traffic that is gained by using any of those sites is still so much less than google. If you only are using those paid programs, you are missing out on a gigantic market.
Getting charged for fraudulent clicks or poor quality leads: If you use Google Adwords, and a bunch of fraudulent clicks are going around, you are still getting charged for them. Google can't detect the difference. Most business owners don't even know what they're paying for. They're getting charged for clicks of spammers, bots and marketers. When using Homeadvisor, or thumbtack you are getting charged for low quality leads that most people don't even have a chance at landing.
Point 4 is huge. We have a special, in house software that we can use to detect these horrible, fraudulent clicks. It is truly mind blowing to see the amount of money blown on fake clicks.  
It would be super hard to leave your business in the hands of paid advertising because you are never in the driver's' seat of the ROI and quality of leads.
Who We Are?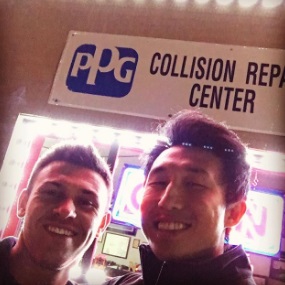 My client and I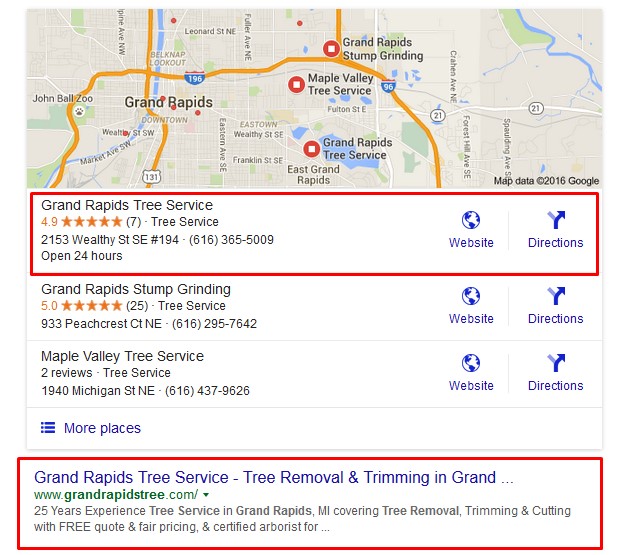 We dominate #1 Spots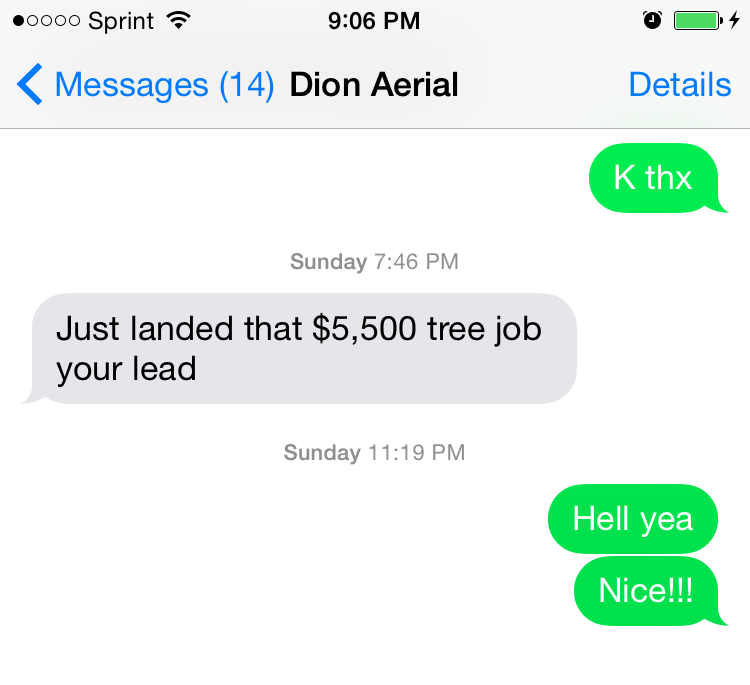 One of my clients landing a huge job
Hey what's up, My name is Ippei, (pronounced E-Pay) and i've been generating leads for businesses around my area for years. I achieved this by using the strategic strategy of organic SEO or search engine optimization. Basically, I have the skills it takes to get my client's site to the top of Google's search engine and get their mapped pinned to the top as well.
Over the years, I have seen the huge difference being at the top does for a company. I have even seen success with companies that were having some success with homeadvisor, google ads, and other roofing lead services.
When you are at the top, you are the ruler. You command the marketplace. You can then demand top of the notch prices for your services and have huge jobs booked out weeks/months in advance. When you get to the top of google, you are going to get tons of phone calls. You will get the most ideal potential customers reaching out to you. When you build up consistency in a business, you can then expand in other areas such as hiring, and investing.
However, if you are using paid services and seeing an ROI, there is nothing wrong with continuing to use them.
But using my knowledge, if I owned a roofing company, the first step I would take is to get to the top spot on google for the search results for my city.
Google can be a life changer for some companies. Nothing quite compares to google.
I've seen it over and over with my clients.
The Answer: Best Roofing Lead Generation Strategy is Smart SEO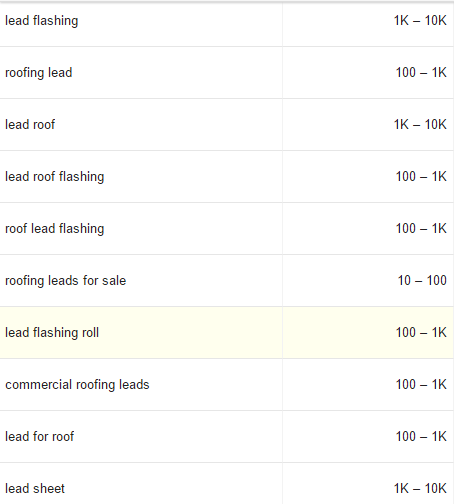 The reality of roofing contractor leads is this,
Using paid services is an OK idea if you are seeing ROI or just starting out.
BUT, if you really want to make the next step with your company, you need to rule google.
If you want a huge volume of leads that in turn become big jobs, You need to rank for the main keywords plus your city such as
Roofing contractors Houston

Roofing improvement companies in Salt Lake City

Roofing Cleveland

Roofing upgrades in Denver CO
Although that may seem like an obvious point, it's really important to not stop there.
These highly searched main keywords are the most important things when looking to rank higher. If you want to be the best roofing contractor in your city that is huge, but you also have to look at the money keywords also.
Money keywords go with main keywords and are important too.
It's shocking to see the list list of long tail keywords that potential customers are searching up on google. It's really important to know what those are and like main keywords, attack the words. If you aren't going for those keywords, you can bet your competition is.  
-Quality roofing contractors
– affordable roofing
-ceiling contractors
-new roofing
Landing high paying jobs require a website that appears right when someone searches for that specific job.
The customers that need these services have money in hand and are ready to invest with the right company right away. They normally search for those keywords in Google 90% of the time.
You need to get your company in front of those people. The great part about that ranking is that when you get to the top, you rule over your competition, rather than competing with them. The top sites always get more clicks.
Going this route is doing SEO the smart and right way. Going after those specific keywords that lead to revenue.
Another key point to add onto that is trying to rank in smaller cities where there are wealthy homeowners.
Example: You don't want to just rank in Louisville. You also want to rank in the smaller cities around Louisville. Majority of my clients are in awe at the jobs they land from the smaller cities, that they never even went after before.
Conclusion
Majority of companies aren't doing enough on the internet.
There are tons of keywords out there that are involved with the roofing niche that make tons of money. Most of these companies are failing to understand. If you only capitalize on ranking for "roofing improvement" you are missing out on a ton.
The actual game of Online Lead Generation is all about doing the research to find out the keywords your customers are looking for on the internet and doing whatever it takes to get your online property above your competition for those words.
It isn't a short process. It can take time and effort. But, in the long run, it really does produce results. Each keyword you rank for can add thousands of dollars to your total line every month.
Most companies aren't realizing how many high quality leads they are missing out on every month.
If you are only using paid lead generation like thumbtack, you are going to deal with price shoppers majority of the time. You are going to miss out of the people that are ready to buy with credit card in hand.
When you rank for higher buyer keywords like:
"Best quality roofing remodelers in San Francisco"
You're going to put yourself in front of people ready to buy.
These are obviously the best customers to deal with because they have made up their mind that they are going to invest.
Not every lead was created the same way.
When using smart SEO, you get to go after higher quality leads that turn into closed jobs at MUCH higher percentages, and leave your competition going for crumbs.        
If you would like to work with us on generating more of these high quality roofing contractor leads for your roofing company, contact us here.