I go over few case studies of mine and Why I always beat my competition

.
My Winning Attitude explained…
There's many people out there that claim they can help your business online…
But rarely are there guys that actually have absolute knowing that they can go into any niche or market and dominate it.
These high caliber SEO guys, which I am one, is a very highly specialized field that's only reached by almost obsessive dedication to this craft.
There are more brain surgeons out there than there are true SEO experts.
Getting New Business in 3 Months…
My new Asphalt guy, Trevor Najar, lands a $6500 job, in just 3 months into working together.
I am ranking him in 8 different cities in the San Francisco Bay area.
(I always prefer to rank in multiple locations at once because you simply begin generating new leads faster and the results are far greater in the long run.)
Its kinda fishing, more lines you have in the water, the better.
I live in a reality where I see near boundless opportunities on the internet. Everyday my sites are rising in rankings & leads are increasing.
Even when I review the supposed top companies in the market, I see plenty of missed opportunities for them in lead generation.
There's so many factors that goes into Google's algorithm to match the customer to a business.
It takes on-going, consistent care & attention of tweaking & optimizing to truly maximize the results.
The Key is Persistence
Some cities will take longer to rank. Why most people fail with organic rankings is because they underestimate what it takes to actually get to the top 3 in Google Maps.
People like taking the path of least resistance and sometimes that means out sourcing the work overseas, not putting in the extra effort in the content or simply not getting enough quality back links, and many other ways to try and save time & cost. However I have found time and time again, NOT reaching the top 3 Google Maps is costing the business MUCH more. Half way down the front page is not good enough.
When I take on a project, I'm never 100% sure exactly how much links, citations or other resources will be needed to reach the top(although I have a good idea at this point), however I am 100% sure I will get there, because I simply do NOT stop until I do.
When it comes to producing real results in organic rankings, PERSISTENCE is the key.
I know I will win eventually because I will out work all of the competition. Knowledge & Skills are crucial, but if there's no work ethic behind it, you never become Great.
When you put in the right effort over time, in greater quality & quantity than your competition, Google recognizes.
My certainty comes from my ability to execute which to me means to take the correct action repeatedly until I am victorious.
…coupled with my tenacious, no-quit attitude to foresee every project I take on till completion and not moving on until I do.
When you have been virtually 100% successful for your clients, then you tend to build absolute confidence.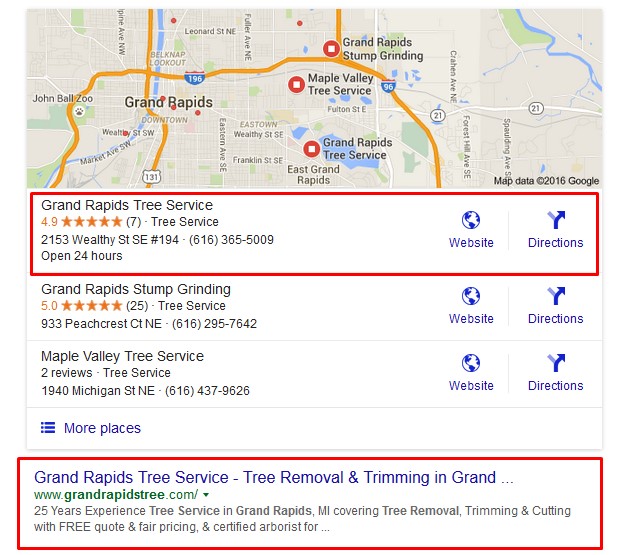 This was a brand new site I ranked, & took me around 5 months and over 25 powerful back links.
Its now ranked for several major keywords and getting leads like the one in below pic for my tree service client in Grand Rapids, MI (Dustin Meyers owner of Timber Ridge Tree Service)
That's a $3225 tree service job he closed. Needless to say he is pretty excited. And we're just starting, there's still more keywords I will go after.
I also worked on a site in Dallas, TX that took over 50 links. The point is, success becomes inevitable with the right skillets & persistence.  Persistence is the mother of all skill.
What its like to have a SEO King by your side… 🙂
As a business owner, there's simply not enough time in the day to keep up with your sites or Google's latest algorithm changes.
I consider myself near the top of my game, through my dedication & good fortune I have become connected to the very best in the business, SEO guys that are multi-millionaires just because they are the very best at ranking sites on the internet. I have built personal connections with some of these guys and over the years they have taught me their elite level of SEO.
These guys are going after some of the toughest keywords on the internet globally.
I have applied it to the local space, which is like showing up to a knife fight with an Uzi. Also in the last 2 years of working with local businesses, I've also learned a lot of tips & tricks on maximizing lead generation for local.
Local Lead Generation is what I do best.
Here are some benefits my clients have found since working with me
No more need to worry about the internet or to "figure it out"
To get steady flow of new business every month because of new presence at the top of people's search results
To stop paying for expensive advertising campaigns that's not producing fruitful results
To see 300-400% increase in business
The ability to hire new staff to handle the menial tasks
To confidently acquire new equipment that allows for higher efficiency & production
To put together a business that runs itself, freeing the owner up with more time to enjoy time with family, friends, vacations, hobbies
Lifestyle Transformation
I have a client in Michigan, Robert Pacahana that I've been working with for the past 2 years.
He started off with a pick up truck and a trailer with 1 other helper, since I entered the picture and made 10 different sites for him, he's now getting over 1000 phone calls a month, got a 7 man crew with an office gal to take the phone calls. .
Recently he was able to go on a camping trip to Algonquin, Canada for a whole week while his business ran itself.
That's the American Dream, isn't it? Make money while on vacation?
That should be the goal of every business owner, after all that's the reason you went into business for yourself right?
For Increased Freedom?
That first prerequisite to build that business is to have the consistent lead generation to support your staff.
So having the very best SEO guy on your team is critical…When most of your customers are spending their days on the computer or smart phones.
Essentially, I'm the bill that'll pay all your other bills.
Work with me Exclusively
Right now, I am looking to take on few more clients. I am looking to work with 1 company exclusively for a particular city & niche, because it doesn't make sense for me to work with multiple companies and compete with myself. I am looking for someone for the long term, a business owner that's hungry to grow and to create a win-win relationship.
Please fill the form below accurately as possible, If I like what I see granted I haven't found a company in your city & niche yet, I will be contacting you.
Thank you,
Ippei
Application Form to Work with Ippei